My name is Susanne Pinkham and Half Moon Studio is my workplace in Taos, NM. Since the early 1970's glass has been my primary art material. My work has evolved over the years from constructing stained glass windows, lamps, and hangings to work that is mostly created in a kiln. In the terminology of glass I have gone from cold techniques (cutting sheet glass and joining it with metals) to warm processes (still cutting sheet glass, but involving a kiln to melt layers of glass together,) with occasional forays into hot work (making beads with a torch.) I work with glass because I am endlessly fascinated with the relationship of light and color which occur with glass.
My family has produced several generations of people who have expressed their creativity in the visual arts. My great grandmother was a painter, both on canvas and on china. My grandfather would be called a folk artist if he were working today. He made elaborate wooden toys, often using found materials that would otherwise have been thrown away. His work shows ingenuity, craftsmanship, and humor. Many pieces have survived and are treasured by his grandchildren and great grandchildren.
My father was a draftsman and painter whose art career was cut short by family responsibilities and a relatively young death. My sister is an active painter in NC. Her imaginative paintings have charmed collectors in the southeast for several decades as she continues to travel to art fairs in that area to market her work. What is the family connection to my own artwork? I think it is a long history of looking at design, color, and mastery of techniques and using that "eye" to evaluate my own journey as a creative person.
After attending college in SC in the 1960's I moved to NM and eventually studied nursing at UNM. I worked for a number of years as a nurse before deciding I wanted to devote my time to becoming an artist. I spent about ten years traveling to art fairs and selling work I had produced in my studio. In the last several years I have taken university classes in drawing, painting and printmaking; I have also taken classes in specialized glass techniques at Pilchuck Glass School and at Bullseye Resource Centers. My goal has been to evolve as an artist and create work with more meaning to me and to the people for whom I might be designing commission work.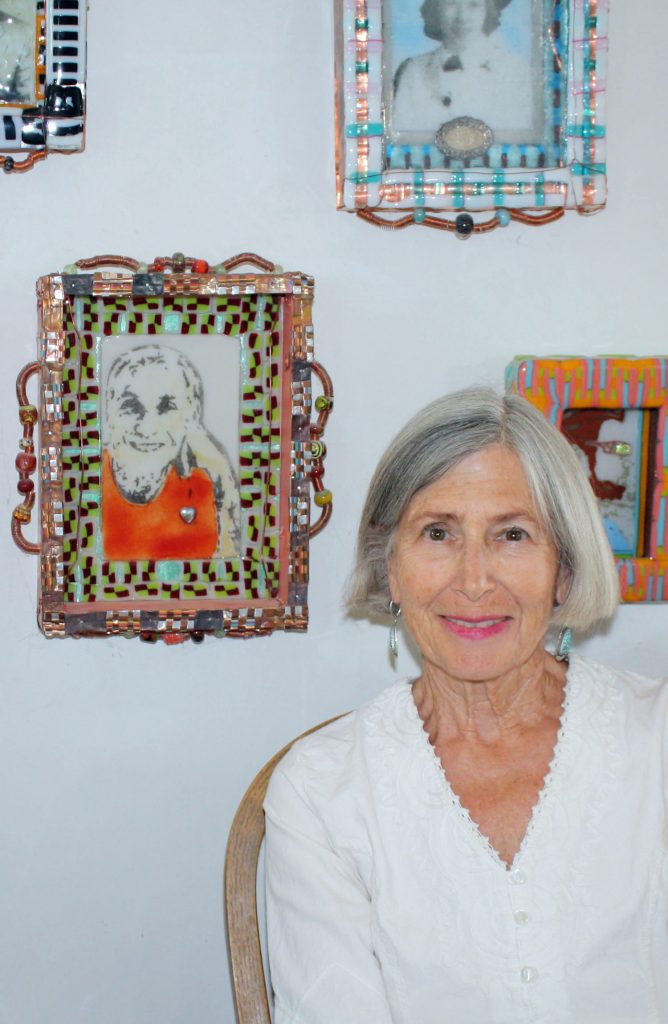 Creating visual art is a process of asking questions and formulating answers in the language of shape, line, color, and light. In my work I aspire to ask the right questions, master the visual language of my materials, and create visually complex artwork that produces a moment of intensity, totally engaging the viewer.